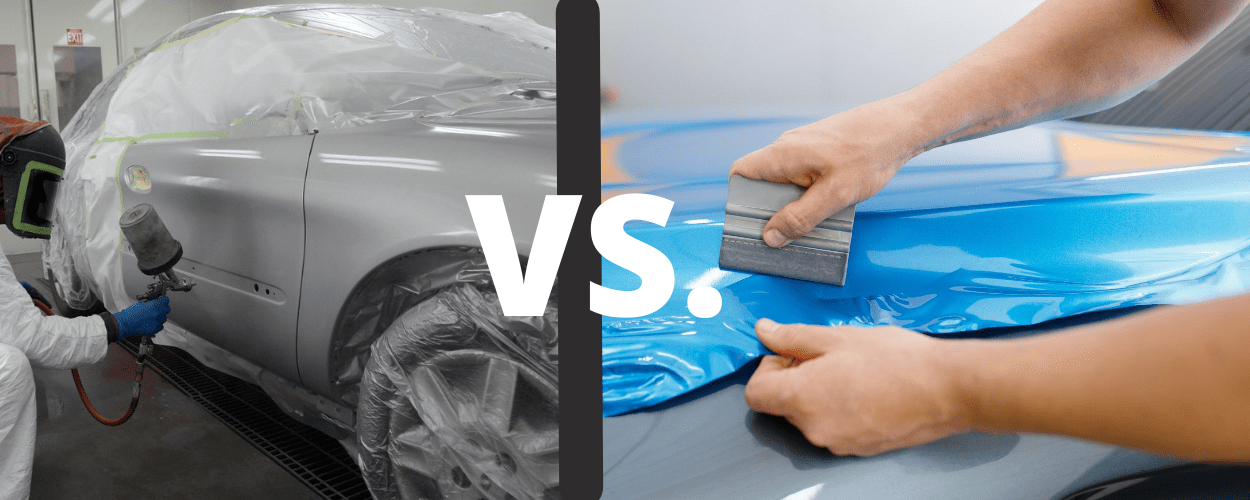 Choosing A Vehicle Wrap vs. Paint Job
When it comes to deciding whether to go with a vehicle wrap vs. paint job on a car, truck, bus, or even vehicle fleet, selecting the right option for you and your business is vital! There are pros and cons to each, therefore it is a good idea to look at a side by side comparison the two! In this article we will help you decide what is the right decision for you!
Cost
Cost is the first factor that comes to mind for most people when it comes to changing the appearance of their vehicle. When it comes to vehicle wraps vs paint, you really do get what you pay for.
Paint: If you really want to change the look of your car or truck, you will likely be able to get a low-quality paint job for around $500. However, a high quality paint job generally costs around $1,000 to $5,000 depending on the size of the vehicle and customization of the design. According to Angie's List some paint jobs can be $7,500 or more!
Vehicle Wraps: Like paint jobs, you may be able to find a low-quality vehicle wrapping service for less than $1000, however it will likely not be up tp your standards. In general, vehicle wrap costs range from $2,500 to $5,000 depending on the type of wrap (full or partial), size of the vehicle, and number of vehicles being wrapped.
The Bottom Line: In general, vehicle wraps are much more affordable than a standard vehicle paint job.
Application Process
The actual length of time that it will take to change the appearance of your vehicle may or may not be huge factor in your decision. The deadline alone may be the determining factor in deciding to go with a vehicle wrap vs. paint job.
Paint: In general, a paint job takes much longer than getting a vehicle wrapped. This is because the process is much more than slapping on a new coat of paint and calling it a day. The current paint needs to be removed before a fresh layer can be applied. From there, multiple coats of pain need to be applied, which means there will be a drying period between each. A good rule of thumb is to expect your vehicle to be in the shop for at least a week, if not longer.
Vehicle Wraps: The vehicle wrapping process is much shorter than repainting a vehicle. The average amount of time for a full vehicle wrap is around 2-3 days, depending on the size and number of vehicles being wrapped. Unlike painting a car, the prep work for wrapping is fairly simple – a thorough wash is all that is needed before the wrap can be applied.
The Bottom Line: The vehicle wrap process takes much shorter time than a traditional paint job.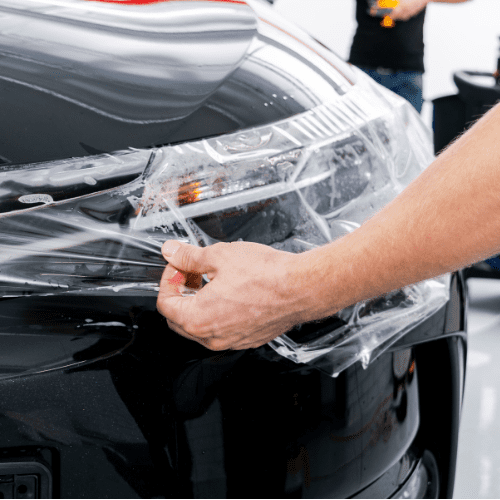 Vehicle wraps are more affordable, easy to apply and remove, and completely customizable!
Removal Process
The removal process of paint jobs and vehicle wraps is extremely different!
Paint: When you paint a car the results are permanent. The only way to change the look of the vehicle is to either have it repainted or wrapped. This is important to consider if you are planning to resell the vehicle. You may need to have the vehicle repainted if you are planning on selling it.
Wrap: Unlike paint, vehicle wraps are able to be easily removed and changed as needed. Learn more about the car wrap removal process. The wrap is not permanent, therefore there is not effect on the resale price of the vehicle. Additionally, the paint underneath the wrap will be protected during the life of the wrap and when it is removed.
The Bottom Line: Painting a car or truck is permanent whereas vehicle wraps can be changed as often as needed and are easily removed.
Lifespan
The lifespan of paint and vehicle wraps are dependent on the quality of how it was applied.
Paint: When done correctly, a high-quality paint job can last the lifetime of the vehicle. However, a low-quality paint job may only last a couple years. A paint job is not ideal for vehicles that are used to promote timely material. Paint jobs are also prone to scratches, rusting, and other unsightly problems if not properly cared for.
Wrap: One of the benefits of wraps is that they can be changed as needed and have a fairly long lifespan. In general, a professionally installed vehicle wrap will last about 5 years before it needs to be replaced. However, it can easily be removed before the 5 years are up.
The Bottom Line: While vehicle paint jobs are permanent, they are prone to unsightly damage like rust and scratches. Vehicle wraps have a lifespan of a few years and can be easily changed.
Custom Designs
If the goal of the appearance change to your vehicle is to promote something the ability to customize to your needs is very important!
Paint: In general, it is hard to customize a painted car. In order to have something like a logo or promotion painted on a vehicle it would likely need to be hard painted, which would increase the cost significantly!
Wrap: If customization is the goal, car wraps ate the way to go. The wrap can be custom-designed to your needs. It can also be offered in a variety of styles including matte, metallic, or even textured. Logos and promotions are also easily printed on vehicle wraps.
The Bottom Line: Vehicle wraps are much more easily customized than painting a vehicle.
Upkeep
In order to keep either the paint job or wrap looking like new, some about of maintenance is required.
Paint: Keeping the paint on a car looking good requires some maintenance. This includes washing and waxing on a regular basis. Depending on the quality of paint, hand washing may be necessary rather than going through an automatic car wash.
Wrap: The maintenance for car wraps is very simple. Take a damp cloth and wipe any dirt and debris away. You may even go through a touch-less carwash is the vehicle becomes extremely dirty.
The Bottom Line: Vehicle wraps are much easier to take care of and clean than a painted vehicle. Most of the time a damp rag will do the job!
Vehicle Wrap vs. Paint Job Decision
When you decide whether to go with a vehicle wrap vs. paint job for your vehicle, it is important to choose the best company to do the job! Colorado Signs and Wraps is Denver's choice for professional vehicle wraps and commercial graphics. We specialize in custom car, truck, commercial, fleet, and even public transport wrap.
Get A Quote For A Vehicle Wrap Today!