Can Car Wraps Be Removed?
The car wrap removal process is one of the most common questions we get from our clients. The answer is: YES! Car wraps can be removed without damaging the original paint on your vehicle. Colorado Signs and Wraps professionals are happy to remove any car wrap when it is not longer being used!
Car Wrap Removal Process
The most important thing to remember when starting the vehicle wrap removal process is that wraps cannot be removed at home. The process needs to be done by professionals who have been trained and know how to complete the process.
If the car has been wrapped in high-quality vinyl, removal should be fairly simple. The most common way to remove car wraps is with a heating element, such as heat guns. Heat guns are used to "melt" the adhesive that holds the car wrap to the vehicle. Once it is heated to the correct temperature, the vinyl is pulled back slowly, being sure not to tug or yank at the wrap. This can cause unwanted damage to the vehicle.
Get In Touch!
Colorado Signs & Wraps – Vehicle Wraps
Denver 6051 Washington St. Unit B
Denver, CO 80216
Call Now!
How Long Does It Take To Remove A Car Wrap?
Removing a car wrap properly usually takes about 1 to 2 days in best-case scenarios. However, the process may take longer based on factors including:
Length of time car wrap has been on: The longer a war wrap has been on a vehicle, the harder it will be to remove. The lifespan of car wraps is usually around 5 years. Any longer than that may make it more difficult to remove.
Whether or not primer was used during installation: Using a primer for a car wrap is a huge no-no! Primers can make it nearly impossible to get a car wrap off cleanly. Primer is used by inexperienced or unprofessional installers who try to save some time by "sealing" the vinyl on to the corners of vehicles. This primer can cause the vinyl and laminate of the car to separate during removal, which leaves behind residue that is very difficult to remove.
The type of vinyl on the vehicle: Unfortunately, using cheap vinyl is not a good long-term decision when it comes to removing a car wrap. Cheap vinyl is notorious for leaving behind residue. At Colorado Signs and Wraps we only use the highest-quality car wraps that will not leave residue when removed.
Original starting surface: The vinyl used at Colorado Wraps and Signs is specifically designed to cover factory-direct paint. If the paint on the car is aged significantly or has been altered, it is not recommended to be wrapped if you would like to have it back in the same condition after removal. An uneven or old start surface may lead to residue marks.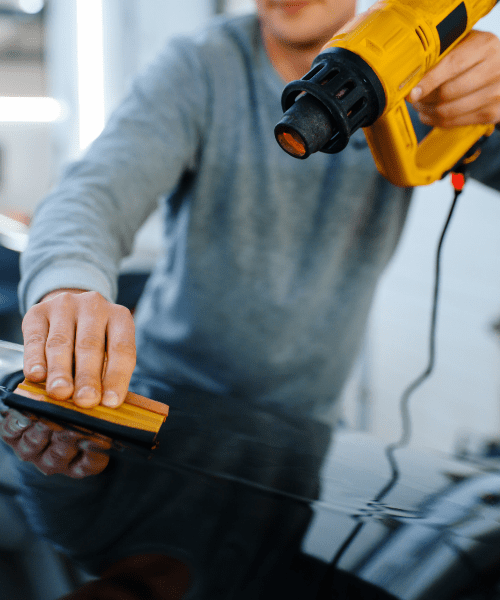 A heat gun is an essential part of the car wrap removal process
ABOUT COLORADO SIGNS AND WRAPS
Colorado Signs is Denver's premium signage and wholesale digital printing provider. We offer a variety of solutions to help promote, display, brand, and create awareness for your Colorado business. With certified installers and a range of fabrication techniques we can display your business on a variety of materials, and are a one stop shop for signs and business branding. Using top of the line printers, inks, and equipment, we guarantee high resolution displays that last. Whether you are looking for banners, POP displays, grand format printing, commercial vehicle wraps or other graphic displays, let the team at Colorado Signs assist you. Our professional designers and certified installers are committed delivering the highest quality jobs for each and everyone of our customers. Contact us about your next project and discover why we are Denver's preferred shop for commercial printing services and more.