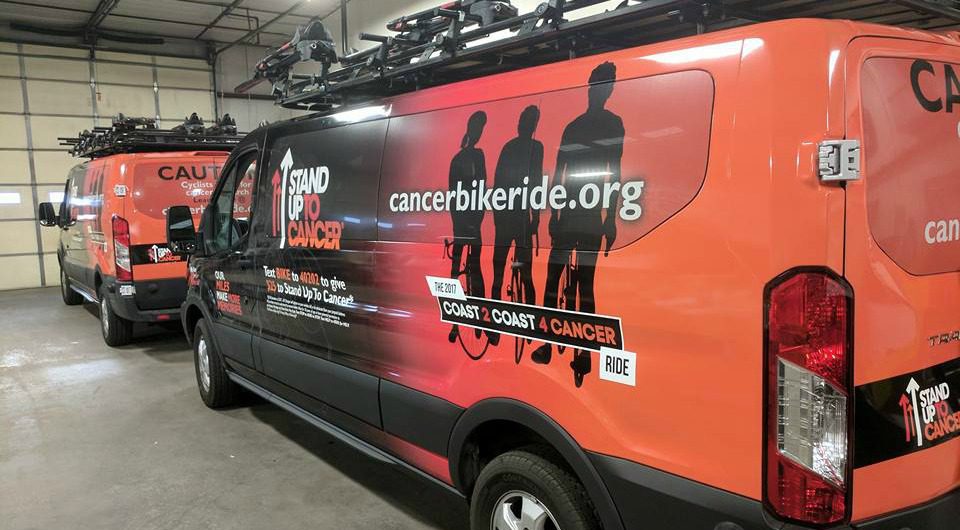 Vehicle Wrap Design Tips
Creating a beautiful vehicle wrap design is the first step to a new look for any car or truck. Car wraps come in a variety of different designs, colors, styles, and materials which is ideal to create a custom vehicle wrap. However, it can be overwhelming! We have compiled a list from our graphic creation and installation teams to help create a unique and attractive vehicle wrap design.
Tips to Create A Beautiful Vehicle Wrap Design
Find a flexible car-wrap company
Every company that offers car wrap service has its own guidelines that determine what will work best on your vehicle. These guidelines can be quite specific. When looking at various companies offering car wrap services, consider the make and model of your vehicle. A custom-fit wrap might not work as well on an SUV as it would on a compact sedan. It is important to work with a vehicle-wrap company that is flexible and willing to make adjustments to make the wrap exactly what you are looking for.
Trust the professionals
While it is important to find a company that is willing to work with you and your designs, it is also always good to listen to the advice of professionals. At Colorado Signs & Wraps our graphic design team and installers have worked on thousands of vehicles. Therefore we know what does and does not work on certain vehicles.
Check the placement of the design
When working on the wrap for your car, it is important to consider how designs will appear once it has been applied. A good consultant will help you determine the proper placement of the wrap. Some colors and styles look better in certain areas of the vehicle and other areas. Understanding the effect that different materials will have in the area in which you will be applying the wrap will help you choose the right design and color.
Check company branding policies
If the vehicle will be used for business purposes it is important to check with branding standards before designing the wrap. Sending a mock-up to the brand management team of how the wrap will look on a vehicle is always a good idea! If the wrap design will be used on multiple makes and models of vehicles our design team will make recommendations on the best materials and methods to make the design look attractive across the board.
Consider the state of the vehicle the wrap will be applied to
If you want to ensure that your car wrap will last, it is important to take into account the overall appearance of your vehicle. The materials that are used to make car wraps are durable, but if there is a lot of damage to the vehicle the wrap will not look as good. If possible, use a vehicle that does not have any damage. Another option is to go with a partial wrap instead of a full wrap. Partial wraps can be applied to parts of the vehicle that is not damaged.
Pick the right type of material
It is important to pick the right material for your wrap when designing it. While some companies may offer lower-quality materials at a lesser cost, this will likely end up costing more in the long run. Investing in high-quality materials means that the wrap will look exactly how you want it to. It will also last longer and withstand the wear and tear that comes with being on the road.
Keep it simple
While it may be tempting to create a design that is super-technical it is usually best to stick with simple designs. This is especially true for corporate vehicles that have text on them. Keeping the wrap simple, easy to read, and well-thought-out will be much more beneficial for those trying to reach a certain audience.
Personal choice
At the end of the day choosing the right car wrap for you truly comes down to personal choice. If you are wrapping a personal vehicle it can be fun to change the look of your car to match your personality. If the design of the car wrap makes you happy, you have made the right choice!
We Help You Create A Stunning Vehicle Wrap Design
Colorado Signs understands that great branding and design go beyond one piece of advertising. We can work with your existing logos or design from scratch to create a whole suite of products to promote your business. We know good design and know what it takes to make your projects work. Colorado Signs will help you create branding that will make your business soar to new heights. Whether you require full vehicle wraps or custom signage and banners, Colorado Signs will make sure that we exceed your expectations.
Our Custom Vehicle Wraps help promote, display, brand, and create awareness for your Colorado business. With certified installers and a range of fabrication techniques, we can display your business on a variety of materials. We are your one-stop-shop for signs and business branding. Our professional designers and certified installers are committed to delivering the highest quality jobs for each and every one of our customers.